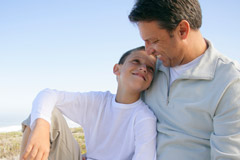 Managing your rental
Are you looking to rent out your property?
S'ANTONI OFFERS MORE THAN JUST HELP...
COMPLETE ASSISTANCE AND A FULL SERVICE
RIGOUR
We assist you in building a complete file on your property, so that we fully understand its characteristics and key features in order to present it to its full advantage
We advise you on the maintenance of your property or a possible renovation
We suggest the best rental rate in order to let it quickly and to a reliable, solvent tenant.
RESPONSIBILITY
We will represent you in all administrative and legal procedures
We receive all rents and deposits, and your money is protected by a financial guarantee
We have the legal expertise required for drawing up letting contracts
We are covered by professional liability insurance
SECURITY
S'ANTONI Property Agents can offer:
protection against unpaid rents
protection in the event of damage to your property
protection against void periods
EFFICIENCY
In order to establish the appropriate rental rates, we rely on:
the National Market Monitoring Centre
our own personal catalogue
our knowledge and experience of the property market
In order to let your property, we guarantee:
use of a file of local and national rental enquiries
the erection of all signs
a window display in our strategically placed agencies
use of the S'ANTONI advertising journal, the 'Property BOOK'
advertising on our websites
newspaper and magazine advertising
SIMPLICITY
Clear, easy-to-understand legal documents
Specialist advisors at your service
PROPERTY OWNERS, do you wish to let your property and still have peace of mind?
Here are the 17 stages that we will take you through:
1

Actively look for a tenant, while giving you regular updates: advertisements on the website
(www.santoni.fr and their partners) as well as in the local press.

2

Careful selection of potential tenants: thorough examination of their files in collaboration with our insurance 'Garantie Loyers Impayés' (protection against unpaid rent)

3

Drawing up and signing of the letting contract.

4

Detailed photographic and written inventory of fixtures, both at the beginning and end of the letting period.

5

Making necessary administrative declarations (concerning the tenant) to the local tax authorities.

6

Handling of all rent and charges, as well as the deposit paid at the beginning of the contract.

7

Employing necessary means of recovery of all rental due on the required dates

8

Provision of receipts and any other documents required by the tenant

9

Calculation of annual increases, as provided for in the contract, and communication of the information to the tenant.

10

Verification of the accounts provided by the property management association and payment of sums required.

11

Calculation and distribution of rental charges and their annual payment in direct contact with the tenant.

12

Search for replacement tenant in event of departure

13

In the event of maintenance work, we will consult with the companies and establish costings and, upon your approval, will carry out the work and pay the companies. We will then charge the tenant as and when appropriate.

14

Defence of your interests with both public and private administrations, such as property management associations, etc.

15

Monthly breakdown, per property, of all income (rent, charges, heating, taxes, etc.) and costs (charges, maintenance, taxes, etc.) made on your account.

16

Monthly payments (by standing order) of all sums due to you.

17

Preparation of statements for your annual property income declarations.